Donate
February 19, 2021
With a humble efforts to improve accomodation and education for our children, we build a new block which will have e-library, more classrooms, dorm hostel etc. Help us out to complete the project.
We now need your help to imrove the infrastructures like computers, book shelves, racks, tables and chars etc in the building. Donating NRs. 25,000 or more for a new building's room will have your name engraved in a marble.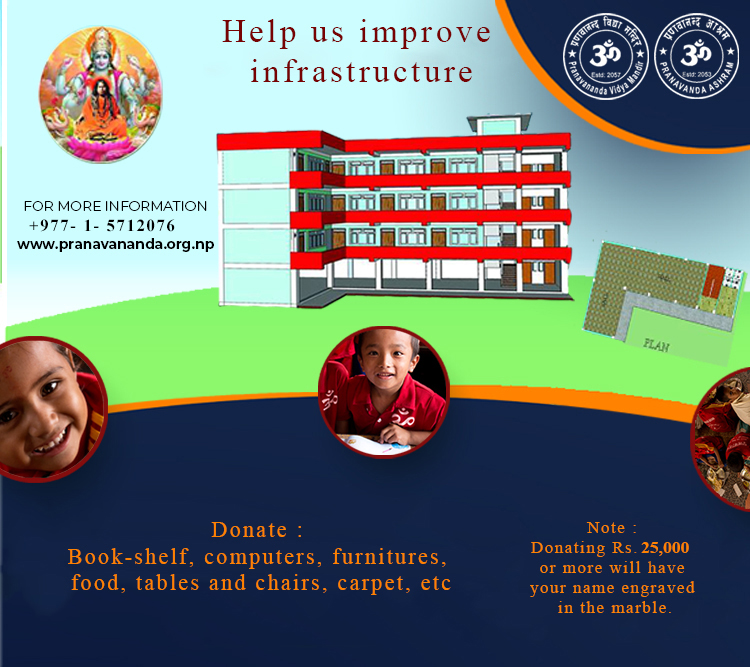 August 18, 2021
This news is an appeal to all the humble hearted people to feed our children. Following is the detail of how you can feed our 75 children.
General Feast
The General Feast will require you to donate NRs. 5001 and will include vegeterian Nepali meal (Dal, Bhaat, Curry and side dish.)
Special Feast
The Special Feast will require you to donate NRs. 6001 and will include vegeterian Nepali meal (Dal, Bhaat, Curry, Rice Pudding and side dish.)
Paneer Feast
The Paneer Feast will require you to donate NRs. 8001 and will include vegeterian Nepali meal (Dal, Bhaat, Curry with Paneer and side dish.)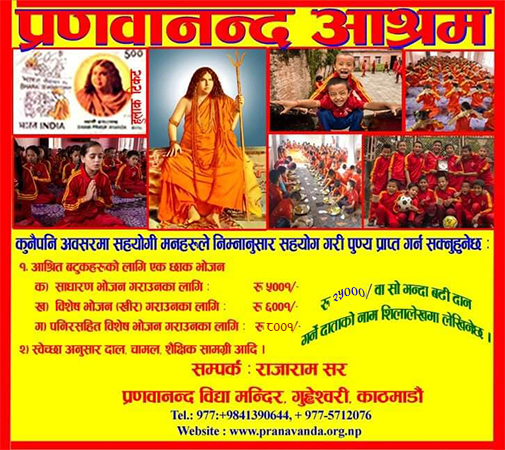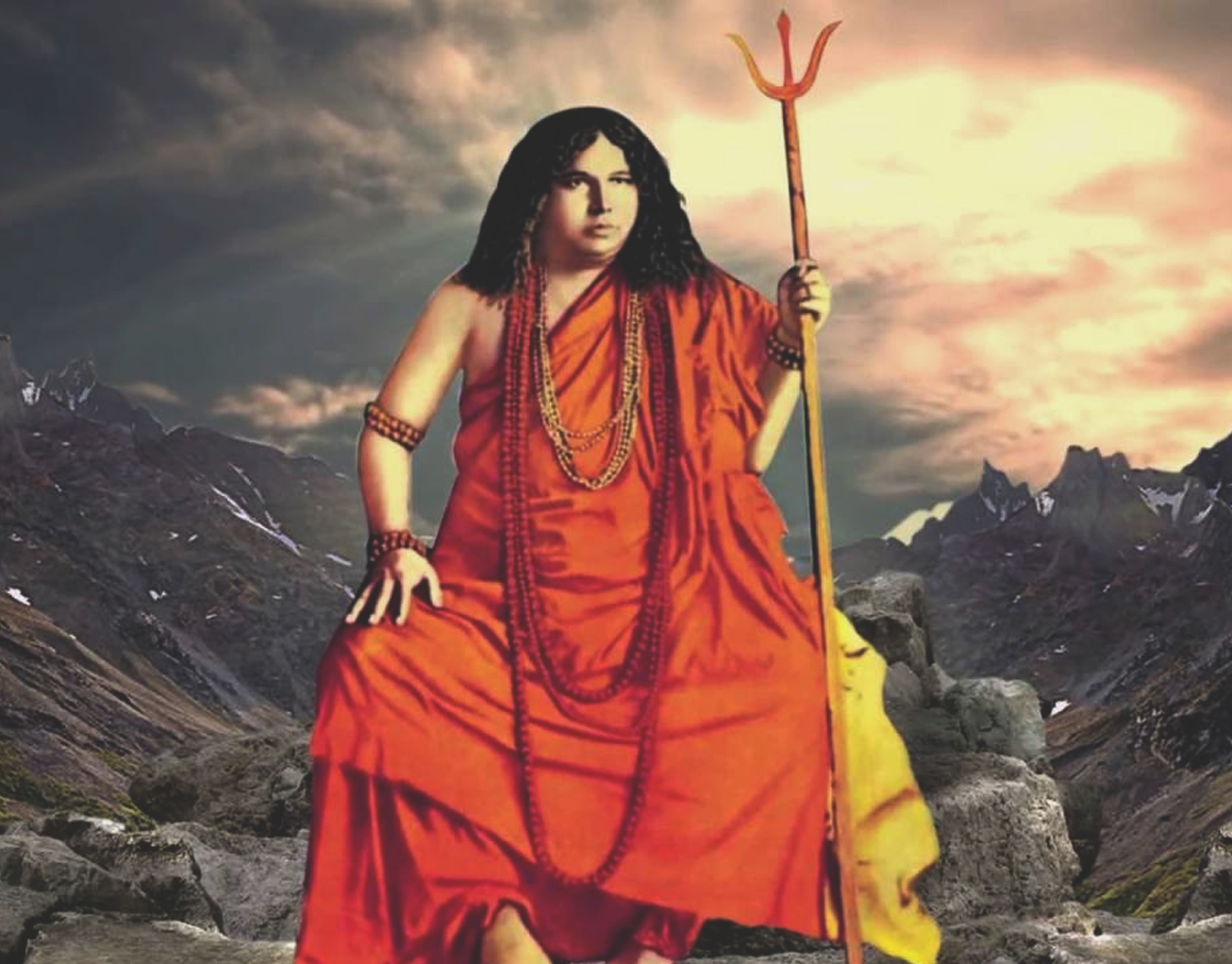 Jagatguru Yugacharya Srimat Swami Pranavanandaji Maharaj
" Birth of a Divine Power!"
The birth of Swami Pranavananda took place on the auspicious evening of the holy full-moon night in the month of Magh 19th January, Wednesday of 1896 ("Faridpur District,Now in Bangladesh"). As he was born, he manifested divine spirit devlaring "I shall incarnate myself as God's son". This eventally turned into reality.
This birth gave mother Saradadevi and father Bishnucharan to be overwhelmed with joy chanting the name "Shiva! Shiva". The child would always remain immersed in meditation and self-contemplation.
With simple foods, he aspired for great divine duties: practicing meditation and other spiritual exercises. The boy in his early age, Benode, attained an uncommon physical and spiritual forth a call and hundreds of selfless youths rallied around him The charming boy, the divine-descent named came with astonishing gifts. Binode slept a little. He was firmly resolved to have a motto that he realosed was that idleness, inertia, procrastination, slothfulness slumbering habits were the greatest enemies of man, This way this man gre to be world renowned saint in course of time.
Swami ji;s love for the poor, depressed , helpless and down-trodden people were unparalled. Swami ju was born as Yogi, always drawn to the inner self like the great Shiva: the Lord of the Yogis. From his boyhood, he was found an adept in meditation and contemplation like the Buddha. Reailzation of self and service to humanity were the twin motto in his life. With these lofty motivves, currently, Swamiji's Ashrams are being run different countries like Nepal, India (every states - Delhi, Mumbai, Kolkata, Jamsekhpur etc.), USA, United Kingdom, Canada, Bangaladesh and other countries of the world.
Donate to Create
PAYMENT OPTION 1 : BANK TRANSFER
Account Name : Pranavananda Ashram
Account Number : 01900174460013
Bank Name : Himalayan Bank Ltd.
SWIFT Code: HIMAPKA
PAYMENT OPTION 2 : DIGITAL TRANSFER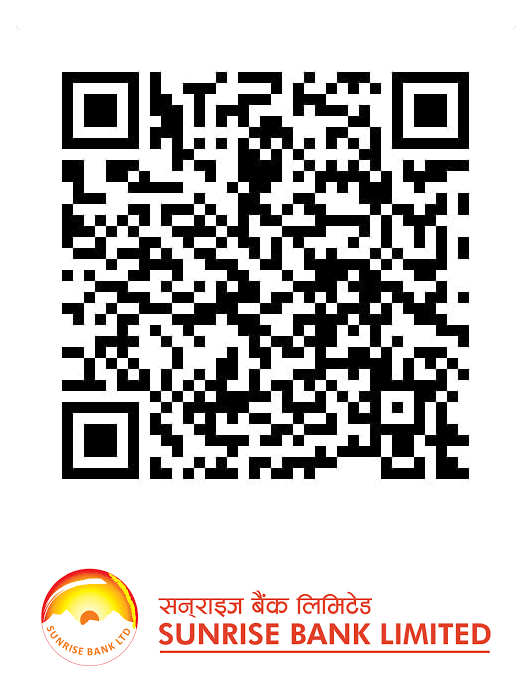 ---